Happy Independence Day!
We had a pretty good 4th of July.  Kara and David and their kids came over and we had a barbeque dinner and just hung out and chatted.  The kids had a lot of fun playing together (as always) and the adults enjoyed talking.  Saturday there was a neighborhood barbeque and we ate yummy food and then watched fireworks once it got dark.  Maddy was kinda scared of them (better than last year though) and had her hands over her ears and on my lap the whole time.  Hyrum absolutely LOVED them! He was laughing like a maniac the entire time.  He really cracks me up!  Here are some pictures I got of the kids while they were in the backyard.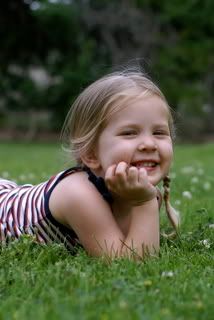 Maddy totally struck a pose it was so cute! She is getting to love the camera, I think.  
Hyrum actually kneeled down and put a hand on his knee when I told him I wanted to take his picture.  
I think I'm training them well. *wink*  
Miles is now 8 months old and sitting on his own for a few minutes at a time.  
I can't believe how big he's getting! He LOVES food and it seems like he is always eating something or wanting to eat.  
He just melts my heart on a regular basis.