Okay, okay, I'll be better!
I promise! I actually am WANTING to come post here more often now... I need to at least post pictures and tell the stories behind them before I forget! I *need* the stories to scrapbook. ;) Anyway, here are some from yesterday...
Hyrum has his hand over his mouth because he thought it was hilarious that I got mad at him when he would splash and get me wet! They had so much fun in the tub together yesterday! Hyrum would get Maddy so excited she would be kicking so much. And then Hyrum would splash and I'd get mad and they both would laugh. My silly kids!
And it seems the actual fall weather won't ever get here, but the leaves are falling anyway. When Hyrum was taking his nap Jay and I took Maddy out and put her in the leaves to see what she would do. She liked them... enough to try to eat them, apparently. Here are two of my favorite pictures from that photo shoot.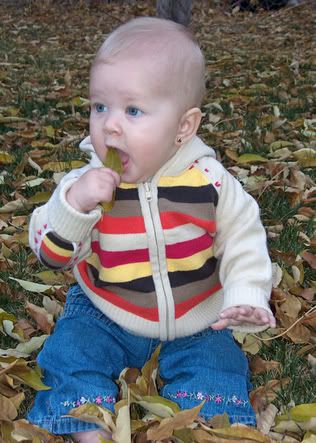 How cute is she?!? I can't wait to scrap these pictures!
Here are the main things I need to do today...
1. Frost cookies.
2. Dishes
3. Go to my mom's to sew! (I seriously have to do this today!)
4. Go to class tonight.
5. Clean bathrooms.